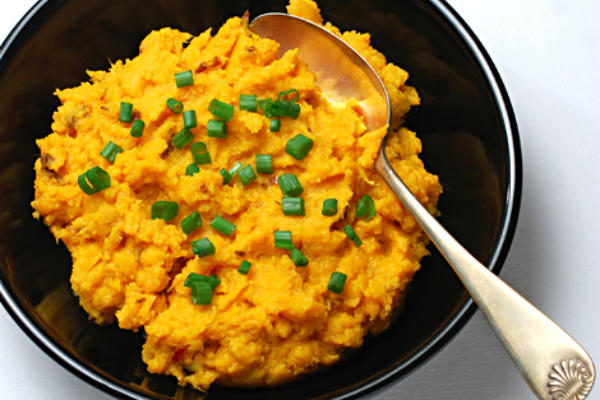 Infinitely better than your in-laws Sweet Potatoes
2 ½ pounds sweet potatoes, peeled and cubed
½ cup half & half
3 tablespoons softened butter
2 tablespoons fresh lime juice
3.5 tablespoons Chipotle Infinity Sauce
½ cup brown sugar
¾ teaspoon salt
¾ teaspoon ground cinnamon, divided
1-2 green onions, green parts only, chopped (optional)
Place potatoes in a large saucepan and cover with cold water. Bring to a boil, turn down heat to simmer and continue to cook for about 15 minutes or until fork tender.
Drain, discard water and return potatoes to the pan. Add the half & half, butter and lime juice. Mash to your desired consistency (we prefer a little chunky). Cook 2 minutes on simmer, or until thoroughly heated through, stirring constantly.
Remove from heat and add Chipotle Infinity Sauce, brown sugar, salt and ½ teaspoon cinnamon, stir into potatoes. Transfer to a serving dish and sprinkle with remaining cinnamon and green onions (optional).
-Kortney Bauer, Sonoma CA
Tags:
Chipotle
,
Recipe
,
Sweet Potatoes