Quality Sauces Since 2015
[dbp_divi_background_plus _builder_version="4.8.2″ _module_preset="default" use_background_color_gradient="on" background_color_gradient_start="rgba(0,0,0,0.21)" background_color_gradient_end="rgba(10,10,10,0.12)" background_color_gradient_overlays_image="on"][/dbp_divi_background_plus]
Infinity Sauces came about as I grew too many habaneros in my back yard one summer and had to figure out what to do with them all. Being an adventurous self-trained cook, I made a lot of habanero based sauces and jellies that summer. Friends and family all raved about what would develop into the "original" flavor and urged me to start a hot sauce company. I was very reluctant knowing that business in the food sector are tough go and my friends were probably just being nice to me. In the following months I developed a Chipotle version of the sauce for my wife (who didn't like Habaneros, at the time) which once again won very positive reviews from friends and family. The following summer I entered my sauces into many competitions and pretty much swept every award, including winning some "best overall condiment" awards. I then realized it wasn't just friends and family being super nice to me and it was time to get something rolling
The goal for Infinity Sauces was to make high-end hot sauces with complex flavor profiles that go beyond your normal vinegar based hot sauces. To let people know that you can had flavorful full-bodied hot sauces that can add another dimension to your food and not just heat.
The Progression of the hot sauces happened both naturally and some by accidents. For instance the "Ghost Monkey" sauce was developed after being given a bunch of ghost peppers and wanting to make a sauce for them. Some of them, like the Hatch-Quatch, were initially a seasonal sauce, but because of demand, it recently became a year round offering. One of the fan favorites, "Double Chipotle", came to be because of a type sent to me. But i was fixated by the thought of bigger bolder Chipotle flavor sauce. Chipotle on steroids' if you will, so Double Chipotle was born.
All of our Ingredients are sourced with the end quality in mind. We only use whole Pepper pods in our sauces and try to purchase them from local farmers who use sustainable farming practices when possible. Our Hatch Chilis come straight from Hatch, New Mexico and custom roasted for us. Spices are sourced globally for quality and freshness.
Our sauces are made in small batches, in no more than 40 gallons at a time. All ingredients are hand inspected and sorted for quality and then hand blended. All bottles are hand filled, hand labeled and inspected.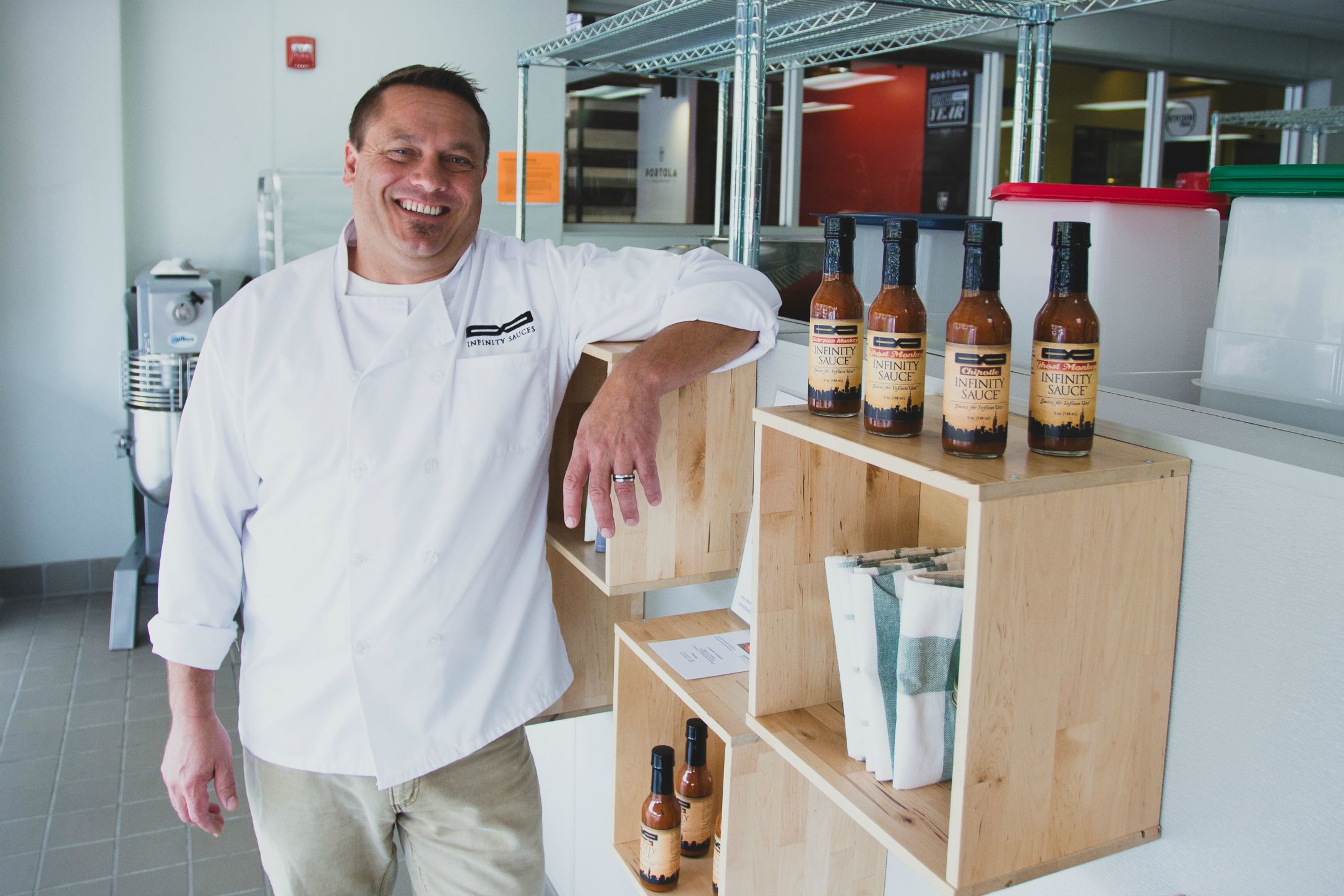 From Mild Chipotle Based Sauces to a Call 911! level of heat, Our Variety of Sauces + Rubs truly give you an added depth of flavor with INFINITE uses.
Be sure to follow us on Instagram for updates to our seasonal products, new product launches, recipes, news + blog posts, give-aways + sales, and event updates.
Spicy Grapefruit Margarita
A SUPER QUICK, DELICIOUS, AND EASY RECIPE FOR A SPICY MARGARITA USING OUR Tri-Haba-Saurus Rex HOT SAUCE, GRAPEFRUIT JUICE, TEQUILA + A FEW OTHER SIMPLE INGREDIENTS.
Going to be out and about? Here is a complete list list of shops  that carry Infinity Sauces.
[dbp_divi_background_plus _builder_version="4.8.2″ _module_preset="default" use_background_color_gradient="on" background_color_gradient_start="rgba(0,0,0,0.74)" background_color_gradient_end="rgba(0,0,0,0.28)" background_color_gradient_direction="118deg" background_color_gradient_overlays_image="on" background_enable_image="off" parallax="on" parallax_method="off"][/dbp_divi_background_plus]
East End Kitchen/4th Street Market

Looking for wholesale or something else?
Here are some other inifinity sauce offerings…
Looking to carry Infinity Sauces in your retail shop or have us at your next festival or market? Shoot us a message to start the conversation.
CONTACT US ANYTIME FOR GENERAL UPDATES, INQUIRIES INTO CARRYING INFINITY SAUCES ON YOUR SHELVES, OR SIMPLY TO TELL US YOUR FAVORITE RECIPE USING OUR SAUCES!